President Message
Our credo:Agro-Kanesho's Management Philosophy
We are responsible to our customers who use our products and services.
We are responsible to our employees who are engaged in our business.
We are responsible for relevant local societies with our business and in turn whole society.
We are responsible to our stockholders.
Always attentive to growers' needs and aspirations, AGRO-KANESHO shows the way forward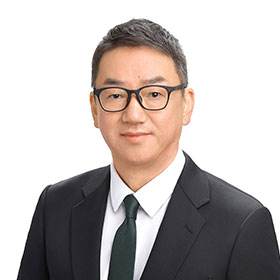 Agriculture in Japan is facing challenges. In addition to concerns about the impact of the Comprehensive and Progressive Trans-Pacific Partnership Agreement (CP TPP) and the EU-Japan Economic Partnership Agreement (EU-Japan EPA), both of which will come into force in the near future, the aging of growers, the lack of successors, and labor shortages have become serious issues. Moreover, systems and structures for providing instructions and information about agricultural technologies, including pest control, seem to be weakening in general. On the other hand, the ratio of large-scale farms run by younger generations and farming corporations has been increasing and the Japanese government has started implementing concrete measures to enhance the competitiveness of Japan's agriculture.
AGRO-KANESHO is pursuing various initiatives with growers. Since the establishment of AGRO-KANESHO in 1951, we have adhered to a persistent, grower-centric approach in both sales activities and product development, centering on diffusion of technologies. The soil analysis and diagnosis services we launched in January 2015 are clearly meeting the expectations of numerous farmers, as indicated by the significant increase in the number of contracts received each year. We received about 3,000 contracts for these services last year. KANESHO Farm is an initiative in which we work with them at their farms to resolve their issues and achieve targets by deploying our accumulated knowledge and experience in agrochemicals and applying soil analysis for their benefit. In 2018, we launched a new service to support growers in their efforts to gain GLOBAL GAP (GLOBAL Good Agricultural Practices) certification. We are committed to increasing our usefulness to more farmers and farming corporations.
Since the halting of operation of the Fukushima Plant as our main production site due to the nuclear disaster in 2011, decentralization of production sites and ensuring stable supply of products have been major current issues for us. Following the establishment of the Ibaraki Plant in 2013, construction of a new plant in Hofu City, Yamaguchi Prefecture, completed in November 2018, is expected to lead to resolution of the issues, including the reduction of risks, while strengthening the business foundation. Moreover, the new plant will serve as a logistics center in west Japan to achieve smooth product supply.
Furthermore, we are developing our overseas subsidiaries in Belgium and South Korea in order to offer agrochemical technology cultivated in Japan in overseas markets with a view to sound expansion of our business overseas.
Inspired by our "Lead The Way 2025" slogan, we are resolved to continue meeting your expectations as we advance toward our centenary.
President of AGRO-KANESHO CO.,Ltd
H Kushibiki