Always close to growers and attentive to their needs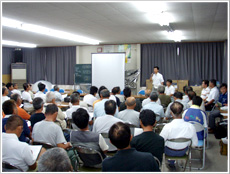 We are always very attentive to the Needs and Wants of growers through close contact with them in the marketplace. Our sales force provides growers not only with knowledge and information about plant diseases, unwanted insects, agrochemicals and their application technology, but also advice for agricultural management. We exchange information on agricultural issues with growers and work in conjunction with them to identify their Needs and Wants in order to provide better solutions.
Strong Promotional Activities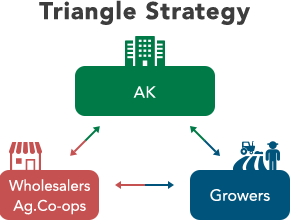 TCA (Technical and Commercial Advisor) activities such as demonstration trials, growers' meetings, Triangle Campaign and technical seminars organized by our technical commercial staff of our sales offices are some of the ways that we learn about the needs of growers and work together with them in the marketplace. Through these activities, we provide growers technical information on our products and help them to set up their spray schedules. We believe that we can build lasting relationships with growers through the daily support of our sales force.
Triangle Strategy is the core promotional program of the TCA with motivated growers and the professional staff of affiliated retailers and Japan Agricultural Co-operatives.
Technical Meetings are organized by each sales office targeting sales staff of affiliated retailers to advice them about our products and application technologies through demonstration applications.